If you're looking for a rug to give your room setting a new look, you might find yourself in an ocean of different types, patterns, and colors that seem a little overwhelming. But no worries. Here we help you navigate all that to find the best rug for your home. In this article, we start with different types of rugs out there. The main types of rugs are wool, cotton, jute, leather, polypropylene, microfiber, and polyester rugs. All of these types have their pros and cons. Are you ready? Let's see what we have got!
Wool is considered one of the oldest types of rugs since its softness, beauty, and durability astonished people of different cultures thousands of years ago. Wool rugs are traditionally crafted in various ways, such as handwoven, hand-knotted, hand-loomed, or hand-tufted. However, you might hear someone claim there are machine-loomed wool rugs. Those are not usually real wool and are made of synthetic fibers.
Wool rugs are more expensive due to the time it takes to create such a piece of art by hand! Yet it is considered well spent since they have an exquisite quality often passed down from generation to generation as an heirloom.
Wool rugs are recommended for high-traffic spaces such as living rooms. However, you better not use a wool rug where you might expose it to moisture. Kitchen or bathroom moisture can damage the rug and cause dry rot! Lastly, don't forget to vacuum regularly for the first few months.
Cotton rugs have also been used throughout history. Still, contrary to wool rugs, cotton rugs are considered an inexpensive option when you want a budget-friendly rug for an area in your house.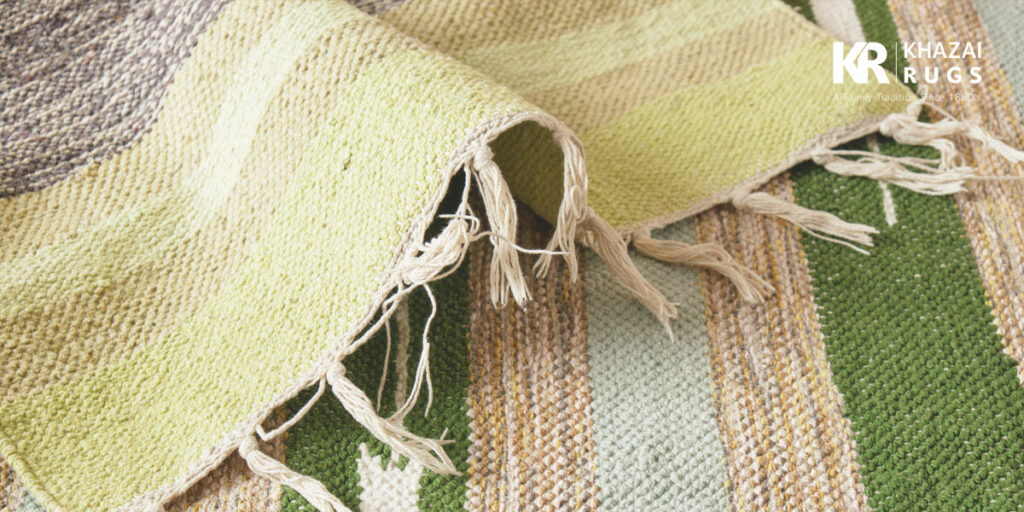 On top of all this, small cotton rugs are machine washable! So you can use them in your kitchen or bathroom and then throw them in the washing machine once in a while.
The catch is you cannot expect durability! Cotton rugs fade quickly and are easily stained, so I think you should consider it for casual areas when you want a mood change and don't expect it to last for centuries.
Jute is another natural fiber for your rug that can change the scenery of your room. Adding a jute rug can be economical if you need a big area that needs a little texture. Or you might have a beautiful handwoven rug that you want to use in a space, but it is not big enough to cover the area. You can lay that beauty on a jute rug to combine the aesthetic and functionality.
The only downside of jute rug is that it is not as durable as other natural or synthetic fibers. In addition, jute rugs absorb water and might develop mold or mildew. So make sure you treat them with water repellents if you are considering putting a jute rug outside or where it is exposed to water.
Leather Rugs
Leather is another option for you if you're looking for a luxury and durable rug. However, leather rugs are considered a very sophisticated touch for particular areas and are not usually recommended for a casual living room or bedroom.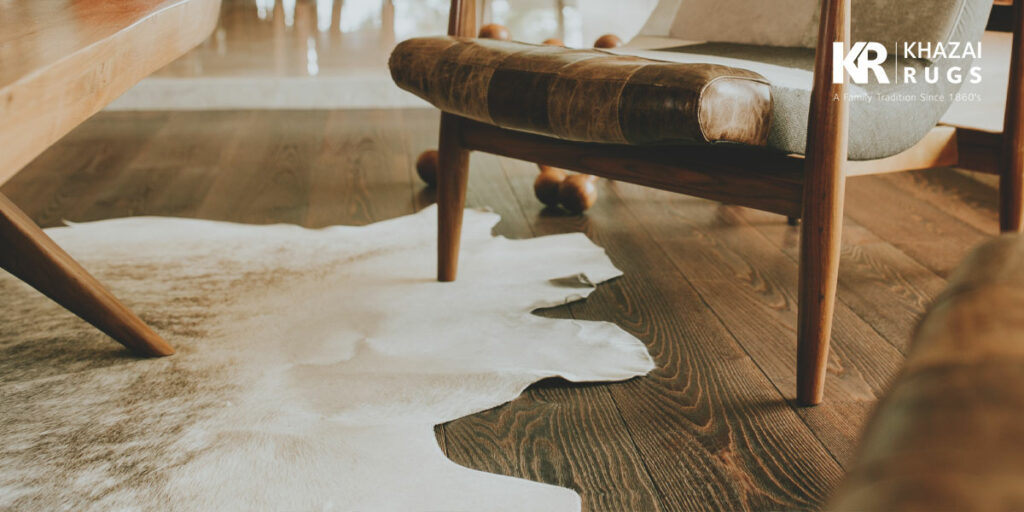 The leather rug is very soft and easy to clean. It will be even more durable if you don't use detergent and soap for cleaning. Another perk of having a leather rug is that there is a meager chance of allergic reactions to it.
It would be best if you only were very careful with moisture on a leather rug. When cleaning it, make sure it doesn't get too wet to damage the fabric. It is also recommended to use a conditioner every six or twelve months.
Now that we are done with natural fibers, it is time for synthetic materials. Polypropylene is one of the famous types of rugs in the realm of synthetic fibers. Polypropylene rugs are thinner than traditional ones, like wool ones, but they are as soft.
Polypropylene rugs are also budget-friendly if you want an affordable option for a casual area. They are easily cleaned yet hardly faded, so you will love them for spaces with high traffic, such as dining or children's rooms.
The only drawback for people who care about the environment is the fact that Polypropylene rugs take a long time to decompose. So if you're considering a Polypropylene rug, it is better to have a long-term plan for it.
Microfiber and Polyester Rugs are the last ones on our list of types of rugs. These rugs are either entirely made of polyester or polyester and other synthetic fibers that are machine-woven. Another rug material called PET is made of recycled plastic bottles.
Just like Polypropylene Rugs, polyester rugs are an economical choice for the times you want a fast setting change in your living room. You just need to know that microfiber and polyester Rugs often get dirty faster than natural materials.
If you are environmentally conscious, you should consider that microfiber and polyester Rugs are made of petroleum products. You might not want to have small children crawl on it or produce plastic garbage that hardly decomposes.
Conclusion
This article talked about six types of rugs that can help you give a new look to your home setting. Generally, people prefer natural fiber for their durability and luxurious look and rugs with synthetic fiber for their affordability.
However, if you are concerned about the environment and prefer not to add synthetic products to nature, you can have cotton or jute rugs! Although they are not as durable as wool or leather, you can be sure there won't be any environmental problems.
Lastly, I should mention that Khazai Rugs provides all types of rugs we discussed above, and you can look for numerous models of rugs on our website. We are a five-generation company with expertise that deeply cares about the delicacy of every rug. So don't hesitate to check out our new collections!