The size of an area rug depends on the dimensions of your room. Rugs come in many sizes and shapes. So, it's easy to find one that fits perfectly within any space. But you may wonder if your 8'x10′ rug will fit perfectly under a king bed. In other words, will this rug fit in your bedroom?
This article answers this question! It also explains important factors in measuring a rug and choosing the right size.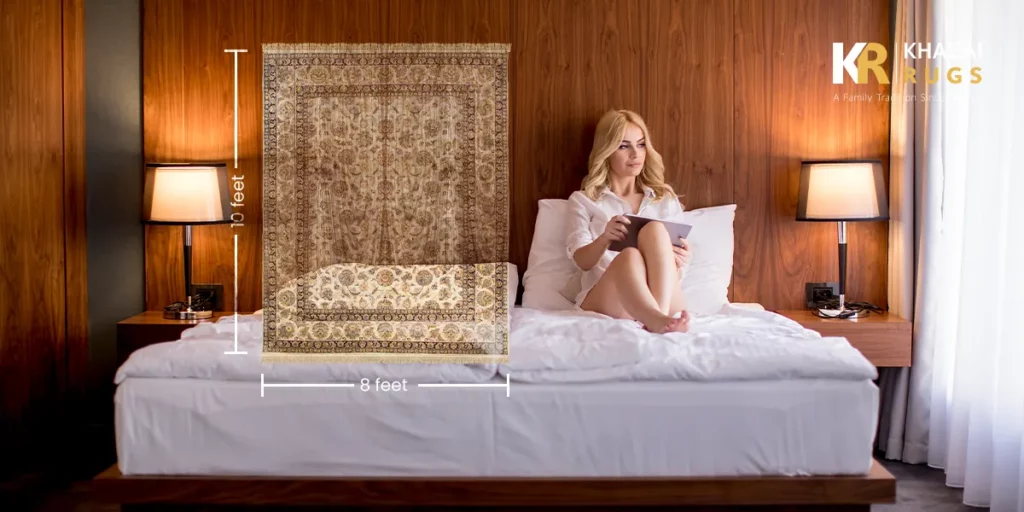 An 8'x10′ rug is exactly what it sounds like; 8 feet wide by 10 feet long. This rug is relatively large and can cover most of the area in your living room, dining room, or bedroom. It is also the size of most people's kitchens, so you can use it in that space as well. 
What is a king size bed?
A king-size bed has the dimensions of 76 inches (193 cm) wide by 80 inches (203 cm) long. This means that an 8'x10′ rug will fit perfectly under the bed without needing to be cut down in any way!
A king-size bed is the same as a queen-size one, except it's bigger. It is wider than a queen and longer than both single and full-sized beds. The exact dimensions vary depending on the manufacturer. But generally speaking, your 8'x10 rug will fit under most kings if you choose the right one!
What place can you put an 8'x10′ rug in?
For a bed with a headboard, footboard, and end rails, an 8'x10′ rug will be too big. However, it can be an option if you want to put the foot of the bed up against a wall. This can be done if you have enough room in your bedroom. But it'll be hard to walk around on that side of the room.
As an alternative, consider using smaller rugs under each piece of furniture. Or you can use larger rugs covering more than one area at once.
How to choose the best rug size for your place?
If you want to see how big a rug is relative to your room, look at its photos online. So, you can know about its length and width.
Khazai Rugs has made it easy to measure the rugs using size filters. Therefore, you can search and browse different rugs and see their exact width and length. You can also ask our professional staff in our store if you want to buy your rugs in person.
Suppose you're looking for an area rug smaller than 8'x10′. But you still want something large enough that won't move around. In this case, an 8'x6′ or 8'x8′ rug will fill the space more comfortably than a smaller one. Moreover, you'll pay less money while getting the perfect size rug.  
What is an ideal size for a rug?
How big your area rug needs to be, depends on how much space you're trying to cover. Generally speaking, a rug that's too small will make the room seem crowded and unbalanced. A rug that's too big will block the floor, which can be unsightly and uncomfortable.
An ideal size for a rug depends on your tastes, but there are some general guidelines to keep in mind. Rugs should be large enough to fill the space and small enough that it's not too overpowering. For example, if you have a large room with high ceilings, go with a 9'x12′ or 10'x13′ rug. On the other hand, for a smaller space with lower ceilings, consider a 5'x7′.
How do you measure the size of a rug?
The first thing to do when measuring for a rug is to ensure it will fit in your space. To figure out how big your rug needs to be, first measure the area where you want to put it. Then compare that measurement with the rug's size. If you're buying a rug from our website, you'll have no problem finding out about the sizes. You can use the size filter to search for the right size. Plus, if you like any rug, you can see its dimensions right next to the rug's photo.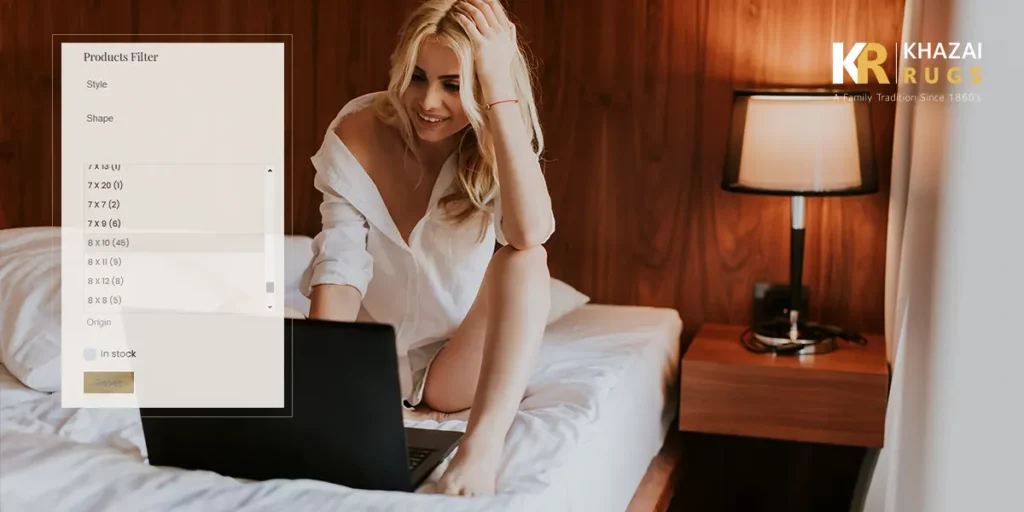 Conclusion
While not all king-size beds have the same size and shape, an 8'x10 rug would usually fit under them.
Measure your room and make sure there's enough space for the rug. If you're planning on putting it near a wall, measure that one too. So, you know how big a rug will fit under it.
Still not sure if your rug fits under your king-sized bed? Count on us! Our rug experts at Khazai Rug can help you choose the best rug size based on your room size. So please contact us and share your question with our rug professionals.