Recognize authentic rugs, Handmade rugs are the knotted paintings; they are as beautiful, colorful, and meaningful as a precious painting. Adding authentic rugs to your home is the smartest decision to anchor the space by the bright and eye-catching patterns of an Oriental rug.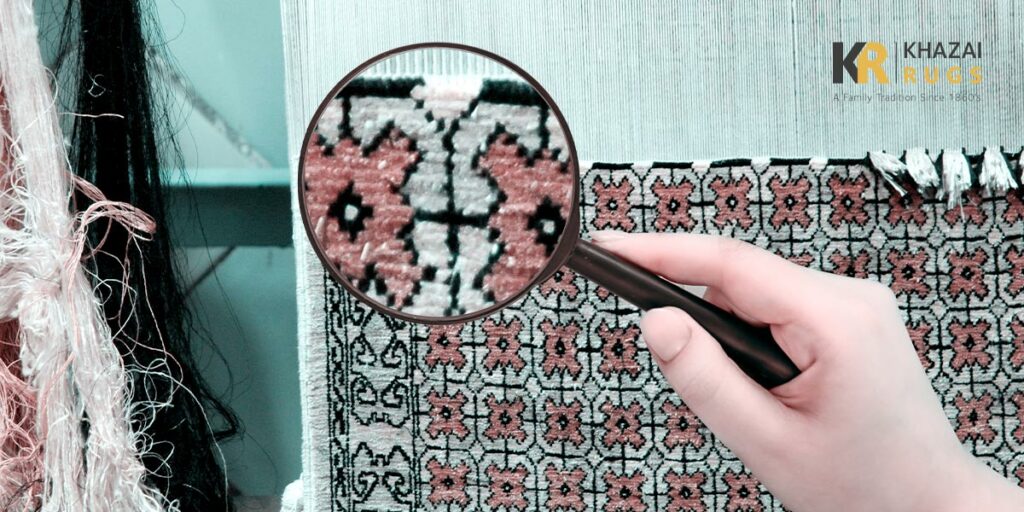 Supply and demand follow the opposite directions in the rug market, resulting in an exceptional value for these knotted artworks. Not only an authentic rug's value does not decrease over time, but it also gains even more. That makes rugs perfect choices as reliable investments. So, just like any other investment, you'd better ensure the safety of the path you step in. This article will give you a clear outline of how to recognize an authentic handmade rug. However, there are some tricks that unofficial retailers use to sell high-copy rugs as the original. That's why we highly recommend you to get Rug Appraisal from a Rug Expert.
The physical condition of the rug
Back of the rug
The back of the rug is the first thing to check while assessing an authentic rug. One should notice the piles of the rug to make sure they're directly hand-knotted into the warp. On the other hand, the back of the rug is pressed and held in place with glue. A handmade rug's back should feel delicate and soft to touch. The knots must be clearly noticeable. The knots do not have to be all exactly even because it's the work of a human, not a programmed machine. recognize authentic rugs.
Dye of the rug
Authentic handmade rugs such as Persian, Oriental, and Turkish have always been produced using all-natural-based dyes. These dyes give a colorfast glowing look that remains for a long time. There's a proven hack to find out if the dye is chemical or natural. Simply put a wet cloth on the rug for a night, and see if the cloth has absorbed any color. If so, the dye is chemical, and the rug is not authentic for sure.
Fringes of a rug
The fringe on a genuine handmade rug is the result of cutting the excess warp yarns after finishing the process of production. In contrast, the fringe is sewn or glued to the machine-made rugs to imitate the handmade look. So, check the fringe closely while assessing a handmade rug. If it's glued or sewn, the rug definitely is not authentic. recognize authentic rugs.
Materials of a rug
Handmade Oriental rugs' key feature is the natural and durable material used in them, such as wool, silk, and cotton. That is to say, if your rug contains any chemical-based material like viscose, polypropylene, and polyester, you can't call it a genuine one.
What gives authentic rugs extraordinary value?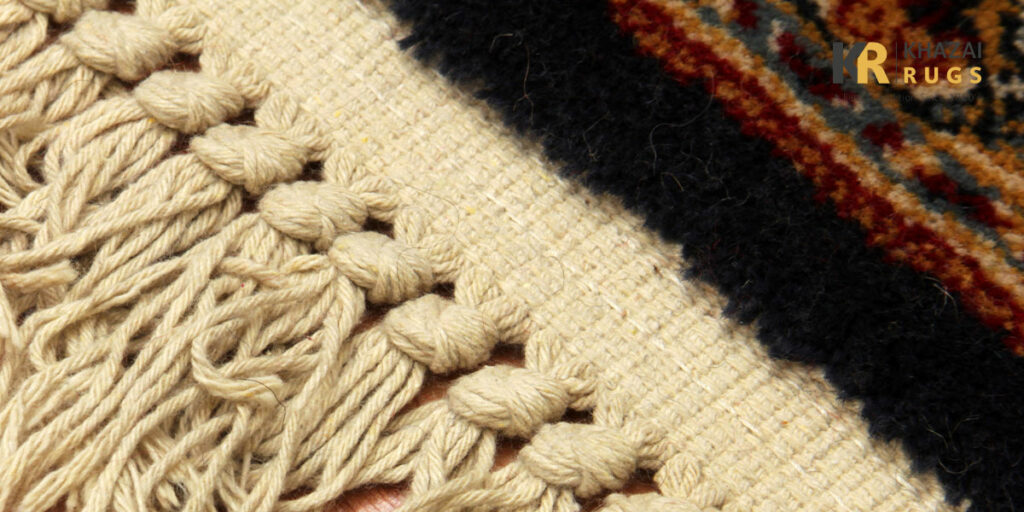 The Origin
The most crucial factor while evaluating a handmade rug is the origin. For instance, handmade rugs from Iran indeed have quite a high value. Especially the famous cities such as Tabriz, Heriz, Kashan, Isfahan, and Nain are well-known for their fabulous and high-quality handmade rugs.
The other regions like Afghanistan, Pakistan, and Turkey have gained quite a valid credibility in the rug market.
Age
Handmade rugs are made to last. Their construction and material are so durable that they can even pass through your family as an artistic heirloom. A rug's old age depicts the fact that it has inherent high-quality and durability. That's why age plays a significant role in the value of the rugs as investments.
That value attracts art collectors' attention, especially for rugs over 100 years old, which are mainly considered antique and have exceptional value. These rugs are on fire in such massive art auctions such as Sotheby's.
Ever-growing value of Rugs as investments
The appreciation of these works of art increases in value and importance because this industry's supply chain is decreasing. Sadly, there will be no more artists left to create these rare works of handmade art in the near future.
The artworks you may find in museums and art collections are priceless. In recent years oriental arts have been warmly appreciated by art collectors worldwide.
Prices for these artistic rugs are already skyrocketing as more and more investors become aware of these rugs' rarity and ever-evolving value.
Wealthy buyers in the Persian Gulf states, South Asia and North America have snapped up some of the world's most exquisite handmade rugs in recent years. In this situation, savvy investors can see their window of opportunity is closing fast to increase their capital and the level of their home design at once by getting an authentic handmade rug.
At Khazai Rug Outlet, we have gathered the finest of handmade rugs from all over the world at the best prices, as we have removed all the go-betweens. It's almost impossible not to find your favorite Oriental rug among the massive collection of 7000 rugs we offer. So don't hesitate to visit our website or store to find out more.