Did you know that buying a natural fiber rug for high traffic areas is a smart decision? These rugs will stand up to heavy foot traffic and still look beautiful. You should find a rug that can handle the constant wear and tear while still looking great.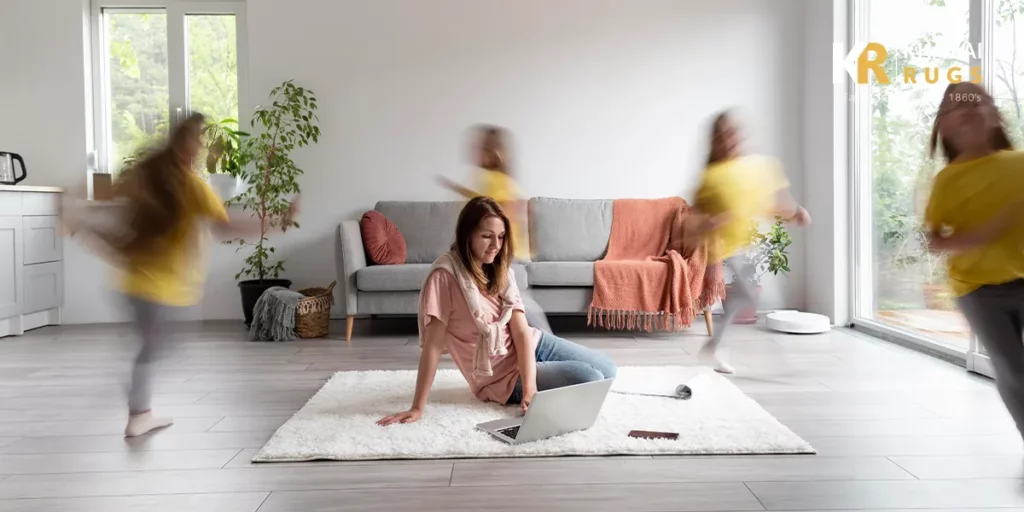 Natural fibers are perfect for this purpose. That's because they are strong and durable yet soft and comfortable underfoot. This article will go over what makes natural fibers so great. It also discusses some of the best options for different types of rugs in high-traffic areas! So, you'll find out more about durable rugs for living rooms with high foot traffic.
Why are natural fiber rugs the best option for your house?
There are many reasons why it's wise to choose a natural fiber rug for high traffic rooms. These rugs are durable, beautiful, and easy to clean.
Natural fibers include wool, cotton, jute, and sisal. These materials have strong fibers that don't break down easily. They make ideal rugs used in busy areas like hallways or kitchens with lots of daily activities. So, they can withstand heavy use without showing wear or tear too quickly. Natural fibers are also stain resistant. So, you don't have to worry about spills damaging your rug over time!
That's why natural rugs are a great choice if you have kids or pets.
Moreover, they are more breathable than synthetic fabrics like polyester or nylon. So, they won't trap dirt as much as other materials might do over time when exposed to excessive foot traffic.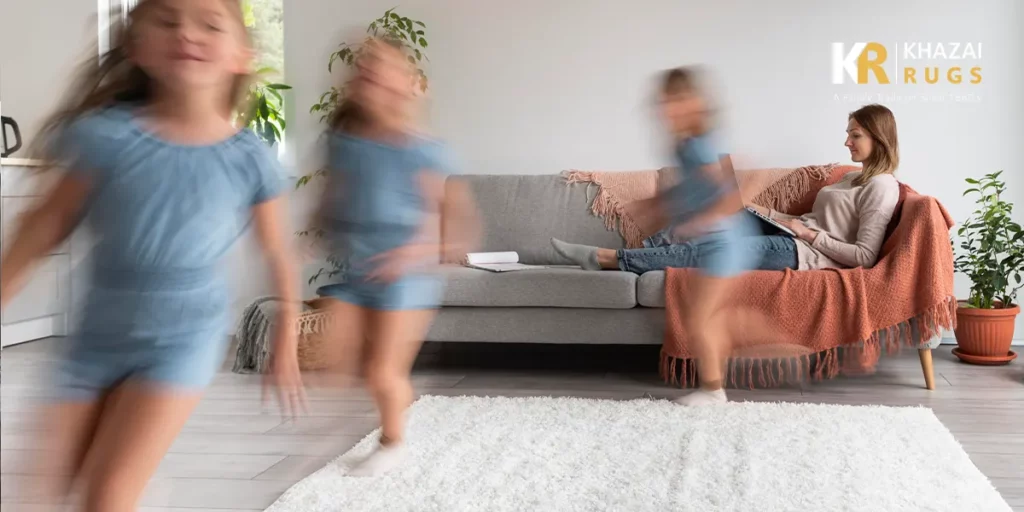 What to look for in a natural fiber rug for high traffic areas?
When it comes to buying a natural fiber rug for high traffic rooms, you should consider some factors. Taking these factors into account helps you have the best rug purchase. Make sure you pay attention to the criteria mentioned below:
Durability: Buy a rug that's easy to clean and maintain. However, it needs to be durable enough to withstand heavy traffic.
Ease of Care: It should be easy to clean. Otherwise, you won't be able to clean it regularly.
Maintenance: The rug should be able to stand up independently. So, no extra care will be needed.
Softness: The feet will appreciate your rug's softness! It is especially important for your children as they play on it all the time.
Beauty: A beautiful rug adds value to any room and gives it style!
What is the best rug for high traffic and pets?
When choosing the best natural fiber rug for high traffic places, ensure you'll have the best options. So, there are several factors to take into account. One of these considerations is how much traffic you expect it to receive. If you have children or pets, choose a rug that can withstand heavy traffic. So, washable rugs for high-traffic areas are ideal for you. The following natural fiber rugs for high traffic areas will help you choose the best one for your house.
Silk is soft and luxurious but also very strong and can withstand years of use. So, they're a great choice for high-traffic places.
Silk rugs are also easy to clean. Just vacuum or sweep them weekly with an upright vacuum cleaner. If your rug gets dirty, simply spot clean it with warm water and mild detergent. You should also take care of spills right away. For that, you can just blot the area with a towel until dry.
Wool rugs are a popular choice for high-traffic rooms as they're durable and easy to clean. You can also buy wool area rugs made from recycled materials, which is good for the environment. In addition, wool is soft on your feet, making it comfortable to stand on for long periods of time.
Looking for a natural fiber rug for high traffic rooms that won't need constant care? wool is your best bet! These rugs do not require special care beyond regular vacuuming and spot cleaning. A damp cloth can be used if something spills on the rug, but ensure not to saturate it with water!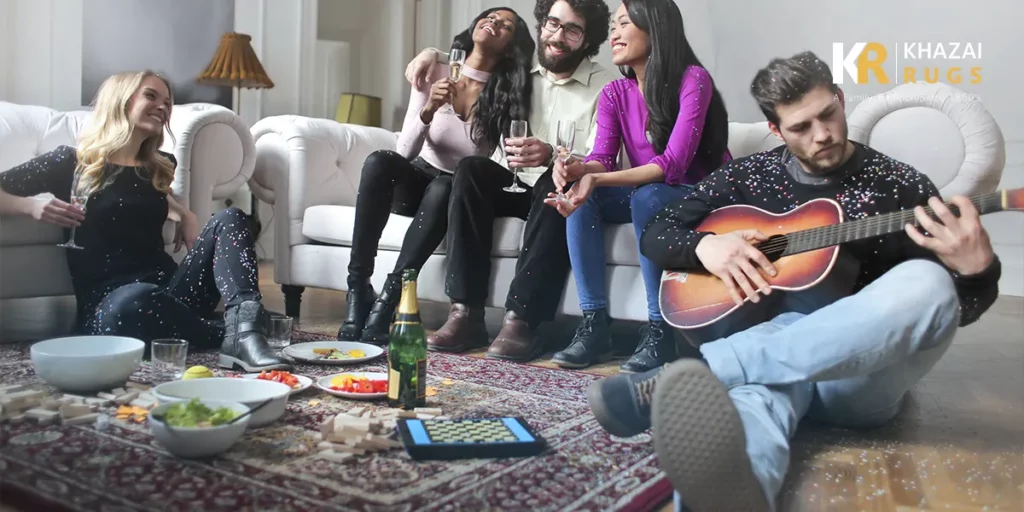 Sisal rugs
You may be wondering, "are sisal rugs good for high traffic areas as well?"
The answer is yes! Sisal rugs are made from sisal fiber, a natural material from the agave plant. Sisal rugs can be woven into many different styles and patterns. So, you'll find them in all different shapes and sizes. While they're durable and long-lasting, they can also be a little rough on your feet.
Sisal rugs are often used in high-traffic areas like kitchens or hallways. That's because they're easy to clean and won't show dirt as much as other types of natural fibers. Sisals also work well outdoors since they don't absorb moisture as cotton does!
Jute rugs are a great choice for high-traffic areas. They're made from natural fibers. So, you can expect high durability. They also have the added benefit of being eco-friendly. Many jute rugs are made using recycled materials like burlap or sisal twine.
Jute is a strong material that can hold up well under heavy foot traffic. They're also great for rooms where pets have free rein. However, it's not as soft as wool or cotton. So, if you want something soft enough for bare feet, look elsewhere!
Conclusion
With all these options, finding a natural fiber rug for high traffic areas is easy. So, you can enjoy a strong, durable rug that can withstand heavy traffic and last for years. Sisal, jute, silk, and wool rugs can be great options for you. They will suit your needs and look great in your home.
At Khazai Rugs, we have hundreds of natural fiber rugs of various types. So, you'll find the one that is perfect for your house and budget. Please contact us and get help from our rug experts. They know all rug types and can show you the one you are looking for.